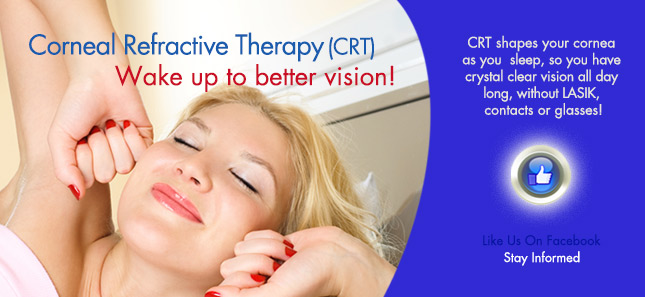 Dr. Christopher Frame is excited to offer Corneal Refractive Therapy (CRT) to our patients at Family Eye Care. CRT is a non-surgical process that uses a therapeutic lens to gently reshape your cornea while you sleep, resulting in the temporary correction of nearsightedness (with or without moderate astigmatism).
The lenses are removed upon waking, offering freedom from glasses and contacts during the day. Most patients notice a significant improvement in their vision within the first few days of treatment, and reach their desired level of vision within 10-14 days.
CRT is an excellent option for:
Patients with mild to moderate myopia (nearsightedness) and astigmatism.
Children who are nearsighted, as studies show that CRT slows the progression of nearsightedness.
Patients who have dryness and allergy symptoms with daytime contact lens wear.
Patients who play sports and are active outdoors, and don't want to wear glasses or contacts.
Patients who are not candidates for LASIK surgery or are not interested in surgery, but want freedom from glasses and contacts.
You can find more information about CRT here: https://www.paragoncrt.com/
Patient Testimonials
If you are interested in more information or would like to see if you are a candidate for CRT, call the office of Dr. Christopher Frame at 708-456-3232 to schedule a consultation.